S9980DSL-LTE Switch/Router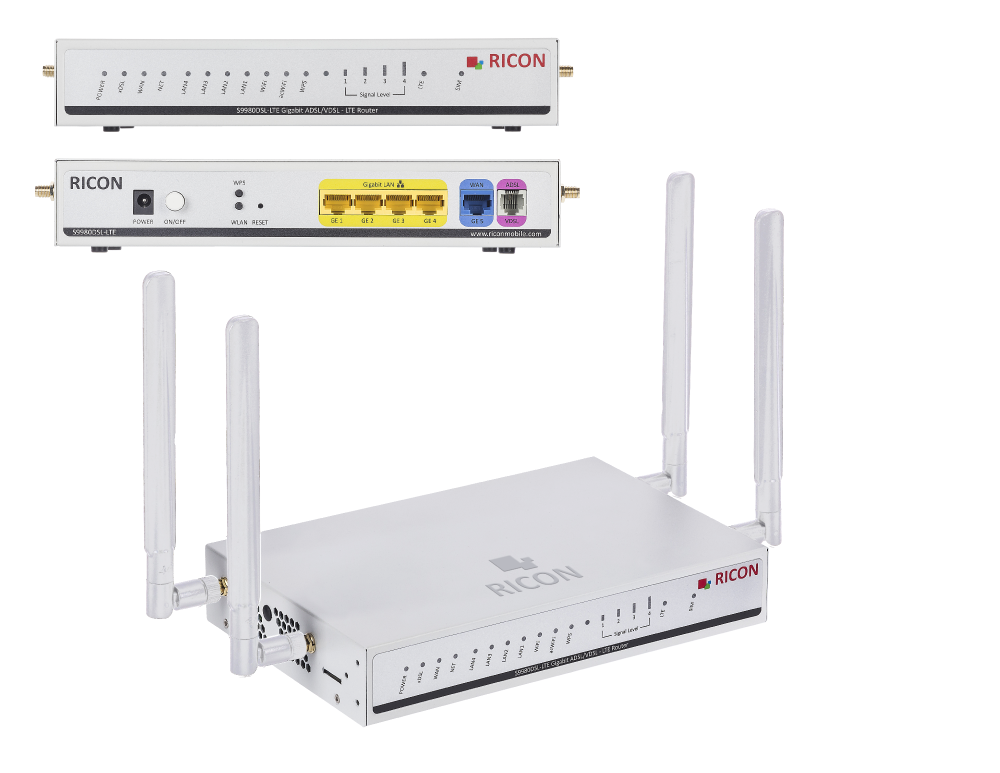 ---
RICON S9980DSL-LTE Router is designed and manufactured by Ricon, it based on fixed ADSL and VDSL chipset and 3G/4.5G(LTE) cellular network technology. With its xDSL capability and embedded cellular module, it widely used in multiple case like ATM connection, remote office security connection, data collection. etc. This document introduced how to use S9980DSL-LTE and its powerful features. S9980DSL-LTE Router, supports tradition router functions like VPN, firewall, NAT, SNMP, DHCP. S9980-DSL/LTE supports 3G/4.5G(LTE) as WAN interface, provide up to 300Mbps downstream and 100Mbps upstream WAN bandwidth and up to 150Mbps Wi-Fi bandwidth. Throughput value is 400Mbps. S9980DSL-LTE Router comes with single port xDSL supporting ADSL/ADSL2/VDSL/VDSL2 modulations with a physical RJ11 port and single module single SIM hardware type. The unique feature of S9980DSL-LTE Router is network online & backup among WAN, WLAN, 3G/4.5G(LTE) network. S9980DSL-LTE Router supports Ricon Management System Controller (RMSC). By the management system controller, you can check running info of S9980DSL-LTE Router and configure the router remotely and publish remote updates.
---
4 LAN (Gigabit)
1 WAN (Gigabit)
1 xDSL (Gigabit)

Single GSM Module
1 SIM
Gigabit Longrange
WEB User Interface, CLI, SNMP, Telnet, SSH
Ricon Management System Controller (RMSC)
2x2 LTE MIMO SMA Antenna
1 802.11b/g/n Antenna, 1 802.11ac Antenna
Industrial design at component level
IP64 metal case for protection against external factors
---





TECHNICAL SPECIFICATIONS




Ethernet Standard


IEEE 802.3,

IEEE 802.3u,

IEEE 802.11b/g/n/ac

AP, Client, Bridge Mode Support

WEP, WPA and WPA2 encryption with AES-TKIP

IEEE 802.11ac Optional 5GHz Wi-Fi support

SSID Insulation Support

Channel management support

20MHz/40MHz/80MHz Beamer support

Status Indications


Power Led

xDSL Led

WAN Led

NET Led

LAN1~4 Led

Wifi Led

acWiFi Led

WPS LED

Signal Level 1~4 Led

LTE Led

SIM Led

Interfaces


4 Gigabit Ethernet LAN

1 Gigabit Ethernet WAN

1 ADSL/VDSL port WAN (RJ-11)

1 SIM GSM LTE

Others


Operating Temperature: -35

ºC

- 750

ºC

Dimension: 230mm x 150mm x 40mm

Weight: 892gr. (Antennas included)




FUNCTIONAL SPECIFICATIONS




Firewall & Filtering


IP packet/Domain/MAC Filter

NAT

DMZ

Protocol Type Check

Port Control

VLAN Tagging

VPN


IPSec,

VPDN,

PPTP,

L2TP

OpenVPN

DMVPN

EoGRE

GRE VPN

Routing


Static Routing, Regulatory Routing, Port Routing

RIPv2/OSPF Dynamic Routing

RIPv1,

RIPv2, OSPF, BGP,

UPnP

Management


Web Browser (local/remote) (IE v8 or above)
CLI/Telnet
RMSC Ricon Management System Controller
SSH


Data Features

QoS: Speed limitation, packet prioritization

IPv6, TCP/IP, UDP, RTP, SNTP, NAT, DNS, DDNS

Address management: Static, DHCP Server, IP/MAC connector,

DHCP switching

Power Consumption


Idle: 80mA +12VDC

Single Module Power Consumption:<7W



DEVICE FEATURES




Multiple Working Modes


Led monitor

WEB, CLI, SSH, multi-parameter management support

Data trigger online/offline

LCP/ICMP/flow/availability signal control, network availability

Easy Maintenance Operation


Local/remote firmware and patch upgrade support

Parameter backup and retrieval support, encryption support

CFE firmware update support

Smart switch support when using multiple servers

Local/remote system logging for easy debugging

Full Network Mode

WAN, WLAN

WLAN AP/Station/Repeater, 802.11n 2.4GHz up to 400 Mbps 4 LAN ports,

WAN support ADSL (PPPoE), static IP, DHCP client

802.11b/g/n optional Wi-Fi, WPS switch

DNS proxy and Dynamic DNS (DDNS), IPv6 support
---
S9980DSL-LTE Switch/Router widely used in Telecom, finance, advertisement, traffic,

environment protection

areas.
---