S9960ME-4GE SFP Switch/ Router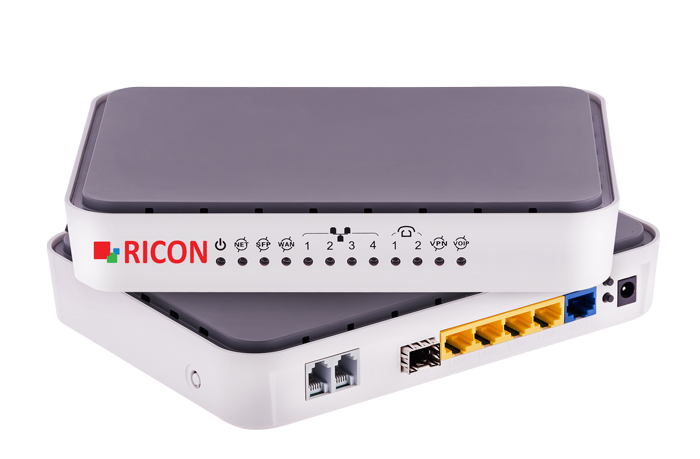 ---
The RICON S9960ME-4GE SFP SWITCH/ROUTER is a mobile network router designed based on Fiber, WiFi and VPN technologies. It is equipped with a powerful 64-bit processor and an operating system specially developed by Ricon. It can easily connect any network device connected via interface connections such as Ethernet and WiFi to the Internet or a central local network with a simple configuration.
S9960ME-4GE SFP SWITCH/ROUTER it is a fiber optic terminator switch that allows the distribution of fiber lines to companies or end users via Ethernet.
---
4 LAN (Gigabit)
1 WAN (Gigabit)
1 USB 2.0
Gigabit Longrange
WEB User Interface/CLI/SNMP/Telnet/SSH
802.11b/g/n Wi-Fi
---





TECHNICAL SPECIFICATIONS




Ethernet Standard


IEEE 802.3

IEEE 802.3u

AP, client, bridge mode support

WEP, WPA and WPA2 encryption with AES-TKIP

IEEE 802.11ac optional 5GHz Wi-Fi support

SSID insulation support

Channel management support

20MHz/40MHz beamer support

Status Indications


SFP: Status Indicator

NET: Connection Setup

WLAN: Wireless LAN Connection

WAN: Wide Area Network Cable Connection Status

LAN: Local Area Cable Connection Status (Lan1 ~ Lan4)

POWER: Power Status

VPN: Connection Status Indicator

WPS: Clear Wifi Connectivity Indicator

Interfaces


4 10/100/1000 Mb LAN Port

1 10/100/1000 Mb WAN Port

1 10/100/1000 Mb SFP Port

1 Standard DC Power Input Port

1 USB Input Port

Others


Operating Temperature: 0

ºC

-40

ºC

Dimension: 240mm x 150mm x 35mm

Weight: 392gr.




FUNCTIONAL SPECIFICATIONS




Firewall & Filtering


IP packet/Domain/MAC Filter

NAT

DMZ

Protocol Type Check

Port Control

VLAN Tagging

VPN


IPsec

PPTP server

L2TP server

Routing


Static Routing, Regulatory Routing, Port Routing

RIPv2/OSPF Dynamic Routing

Power Supply


5∼36VDC


Management


Web Browser (local/remote) (IE v8 or above)
CLI/Telnet
M2M Management
SSH


Data Features

QoS: Speed limitation, packet prioritization

IPv4/IPv6, TCP/IP, UDP, RTP, SNTP, NAT, DNS, DDNS

Address management: Static, DHCP Server, IP/MAC connector,

DHCP switching

Power Consumption


Idle: 12V/1A

Single Module Power Consumption: <5W



DEVICE FEATURES




Multiple Working Modes


Led monitor

WEB, CLI, SSH, multi-parameter management support

Data trigger online/offline

LCP/ICMP/flow/availability signal control, network availability

Easy Maintenance Operation


Local/remote firmware and patch upgrade support

Parameter backup and retrieval support, encryption support

CFE firmware update support

Smart switch support when using multiple servers

Local/remote system logging for easy debugging

Full Network Mode

WAN, WLAN

WLAN AP/Station/Repeater, 802.11n 2.4GHz up to 400 Mbps 4 LAN ports, support Fiber SFP

WAN support ADSL (PPPoE), static IP, DHCP client

802.11b/g/n optional Wi-Fi, WPS switch

DNS proxy and Dynamic DNS (DDNS) support
---
S9960ME-4GE SFP SWITCH/ROUTER widely used in Telecom, finance, advertisement, traffic,

environment protection

areas.
---