I-Survey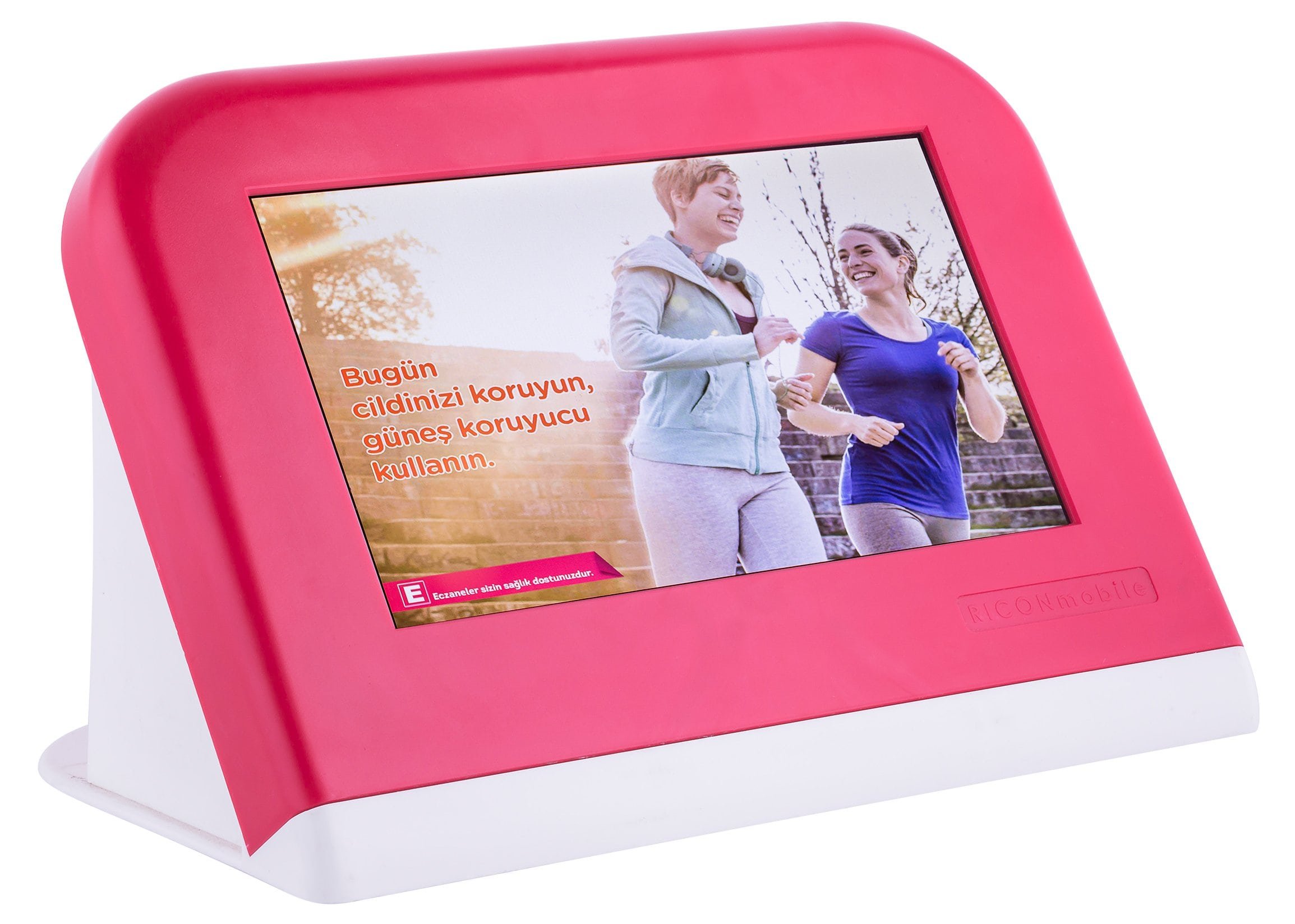 Digital signage
is a form of electronic display that shows informations and animations on different interfaces at the same time. Nowadays, shopping is not only a need; it should also be a pleasant and even a fun activity. Digital signage for retail stores, especially in its modern and interactive form, can support this concept and enhance customer's shopping experience.
Ricon's I-Survey is a customized advertisement retailing solution for pharmacies.It is designed to get attention of customers, and improve communication between products and customers. I-Survey's system displays special offers and product advertisings periodically until the customer's purchase moment begins. Then, I-Survey gives advice, and displays the special offers to customers by preferences.
---
Provides

reliable communication

between seller and customer to

increase sales rates

.

Central

connection and management using 3G Network

7.4

inch screen size

100 minutes

device life time without plug-in

Android

Operating System

Low cost

and can be customized by customer needs
---
i-Survey Management Platform
The progressed survey results are made avaible to monitoring team via user-friendly i-Survey Management Platform

Platform provides full view off all data coming from i-Survey device

Votes history is being kept for trend monitoring and analysis

All the information is provided over the internet, there is no need for the user to invest in information technology or have specialist skills to adopt the i-Survey Management Platform

i-Survey Management Platform is web-based application, can be used by different department, region all around the world
Benefits of i-Survey
Improving customer care through interaction with a voice to company, customer feels happy and important with sharing her/his experiences of received service

Collect several information about your company and employees performance

Eliminate the costs of data entry associated with transferring paper-based serveys to electronic format, while equally eliminating the scope for data entry errors during that process

Flexiable questions managed remotely

Advertisement possibilities between voting or set as screen saver

Survey coordinator is able to monitor the results of the survey in near real-time

All data is stored in database format and it is open to share with partner other application to use for performance, HR or customer satisfaction

Customer Feedback with RICON
RiCON i-Survey features a single 9-inch, uni-purpose device that is both physically and electronically secured for use in the field for survey. The device come pre-configured with your credentials out of the box, it is selfdeployable without specialist IT support and are simple to operate

Thanks to internal battery i-Survey device can operate 8 hours even when there is electricity power cut. Device can operate also when there is no communication. It still collects data and when connection is back sends all collected data to Management Platform.

How It Works
i-Survey solution is an industrial device with survey application. Supported languages are English, French, German and Turkish. Screen shows one simple question with 3 rating: GOOD,AVERAGE,POOR. More rating levels and question are possible. New questions can be added and easily changed via i-Survey Management Platfom. A "Thank You" message appears after the rating and it can be managed too. The rating sends to back-end server via 3G/WiFi.

Ricon i-Survey application and powerful back-end reporting system allows survey data to be viewed and analysed instantly.
Problem Overview
99 out of 100 customers ignore conventional surveys. This is why our revolutionary RICON i-Survey require just one touch to complete, driving up higher participation from your customers. What can be measured can be improved. Our survey Management Platform lets you continuously audit your business using customer feedback, overlaid with contextual information like customer profile data. Data can be also transferred to any other HR or performance monitoring application.
Manage Questions
i-Survey questions can be easily added, changed scheduled, different questions can be assigned to specific groups, floors, buildings or regions of i-Survey devices. Device can be linked to an employee or to a department into any database. Ricon i-Survey questions and answers can be designed in the format of your choice using our intuitive user-friendly i-Survey Management Platform.
---
Currently, Ricon's I-Survey solution is used in 26 pharmacies and 62 terminals actively.
For more information please visit i-Survey's website

http://ipharmaweb.com/
---