HyperNET S9930-LTE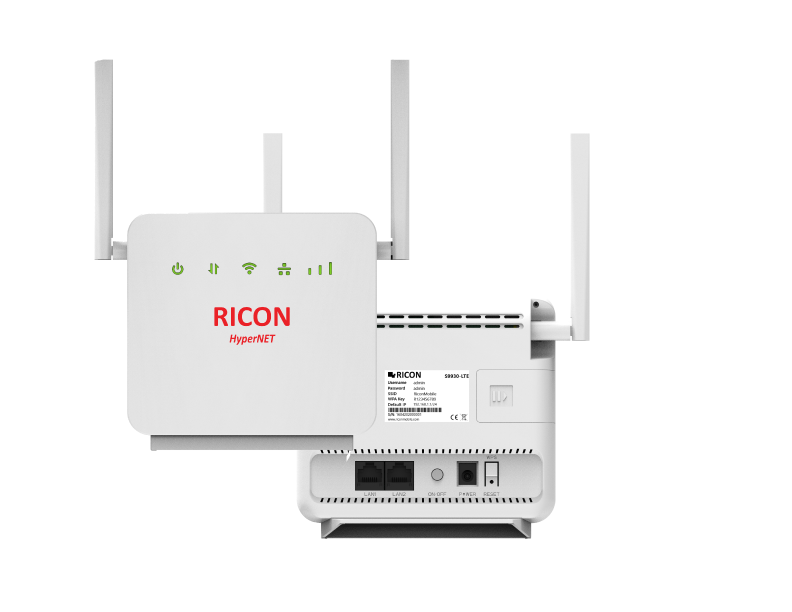 ---
The RICON S9930-LTE Router is designed and manufactured by Ricon with infrastructure based on home or small-class LTE cellular network technology. The embedded cellular module is widely used in many cases such as ATM connection, remote office security connection, data collection, internet access etc. Supports traditional router functions such as VPN, firewall, NAT, SNMP, DHCP. The S9930M-LTE supports LTE as the WAN interface, provides 300Mbps download and 150Mbps upload to WAN bandwidth and 150Mbps Wi-Fi bandwidth. The S9930-LTE Router supports Single Module + Single SIM hardware.
---
LTE/3.5G support, 2.5G/3G compatibility

Interface: 1 LAN

1 SIM Sockets (Passive Backup)

Single GSM Module (CAT4, DL:150 Mbps/UL:50 Mbps)

LTE+/LTE/DC-HSPA/HSDPA+/HSDPA/WCDMA/2G

WEB User Interface

1 x LTE MIMO SMA Antenna

802.11b /g/n Wi-Fi

Supports TR069

Supports more than 32 WiFi devices online at the same time.
---





TECHNICAL SPECIFICATIONS




Ethernet Standard


IEEE 802.3

IEEE 802.3u

AP, Customer, Station, Bridge Mode Support

WEP, WPA-PSK, WPA2-PSK, WAPI, w / AES-TKIP

SSID Insulation Support

Channel management support

20MHz / 40MHz Beamer support

Status Indications


SIG1: GSM Module 1 Signal Supplement

DATA: Connection Setup

POWER: System O / S Health

WLAN / WPS: Wireless LAN Connection

LAN: Local Area Cable Connection Status (Lan1)

Cellular Specifications


LTE 800/900/1800/2100/2600 MHz

UMTS/HSPA+900/2100 MHz

GSM/GPRS 900/1800/1900 MHz

HSPA+/HSUPA/HSDPA/WCDMA/UMTS 2100/1900/900/850/800 MHz

EDGE/GPRS/GSM 1900/1800/900/850 MHz

HSUPA/HSDPA/UMTS 2100/1900/900/850 MHz

EDGE/GPRS/GSM 1900/1800/900/850 MHz

CDMA 2000/EVDO Rev.A 800 MHz

SINGLE SIM/SINGLE GSM MODULE (1x IMEI)

Interfaces


1 x 10 /100BaseT LAN Interface (MDI-X)

1 x SMA-K antenna connector (MIMO)

1 x Standard SIM / R-UIM Interface

1 x Reset Switch

1 x WPS Switch

1 x DC Power socket

Others


Dimensions: 120mm x 110mm x 45mm (not including antenna)

Weight: 142 gr.

Operating Temperature: 0 ~ +40 ° C

Store temperature: -20 ~ + 55 ° C

Humidity Ratio: <95%




FUNCTIONAL SPECIFICATIONS




Firewall & Filtering


IP packet/Domain/MAC Filter

NAT

DMZ

Routing


Static Route

RIPv2/OSPF Dynamic Route

VRRP (Hardware Backup)

Power Supply


Power: 12V / 1A DC 2.0

Single Module Power Consumption: <5W

Management


Web Browser ( local / remote) (IE v8 or above)
CLI/Telnet
M2M Management
SSH


Full Network Mode


4G (TD-LTE / FDD LTE), DS-HSPA +, HSPA +, HSPA, WCDMA,

EVDO, TD-SCDM, CDMA1x, EDGE / GPRS

WLAN, SIM1

WLAN AP/station, 802.11n 2.4 GHz up to 300 Mbps

1 LAN port

Support VPDN, APN private network

802.11b/g/n, WPS switch

Supports TR069 and USSD

Supports IPv4 and IPv6.

Supports SIM Lock

Power Consumption


Power: 12V/1A DC 2.0

Single Module Power Consumption: <5W
Remote Cloud Management Platform


Excellent monitor capability

Checking the status of the Internet at any time

Flow static and analysis
---
S9930-LTE Router widely used in Telecom, finance, advertisement, traffic,

environment protection

areas.
---