S9955OUT-5G (Outdoor)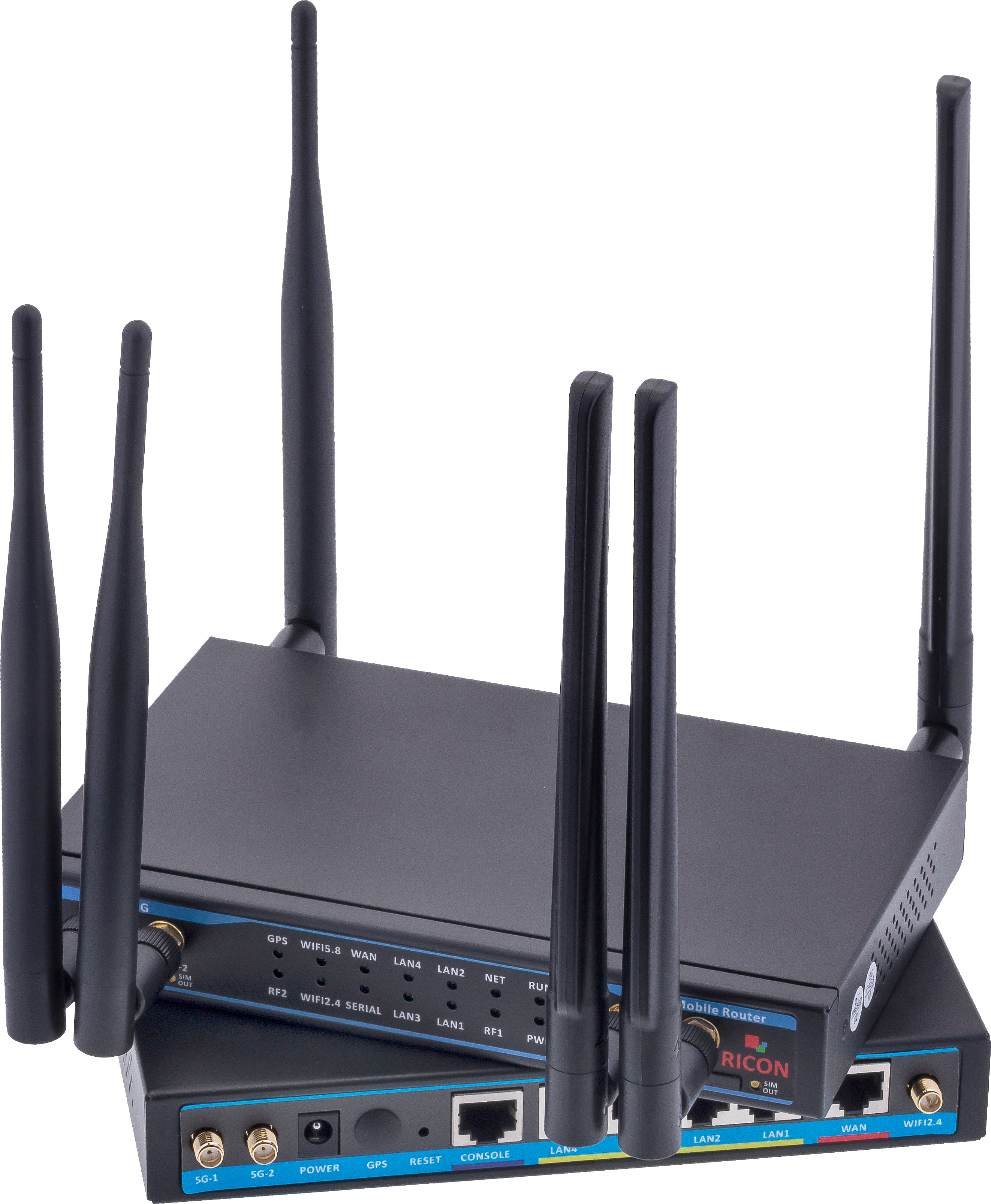 ---
PS: Outdoor enclosure is in production.
Ricon Mobile S9955OUT-5G industrial router

by Ricon Industrial grade quality, designed and manufactured in accordance with 5G cellular network technology. It is a kind of router with secondary development and extreme computing capabilities. S9955OUT-5G router has dustproof and waterproof feature thanks to its IP65 protection certificate.
Ricon Mobile S9955OUT-5G router provides maximum service to customers while Zero touch-SMS installation minimizes the need for field service with easy and automatic product installation service. The unique feature of the S9955OUT-5G Router is that it is online and redundant over the network between WAN, WLAN, 5G network. This feature allows the S9955OUT-5G to provide maximum network availability and reduce the likelihood of network failure to prevent losses due to network failures.
Ricon S9955OUT-5G routers are web-based and can be easily routed with CLI. In addition, the Ricon Management System Controller (RMSC) successfully accomplishes the goal of reducing the maintenance costs with the ability to access all the Ricon products in the network and to access instant and statistical data on the web environment and manage them 100%.
---
VPN passthrough

WAN port support PPPoE, static IP, DHCP client (Auto Link Backup)

LCP/ICMP/flow/heartbeat check, ensure network usability

SNMP network management, NTP support (Free MIBs)

Local & remote firmware update

Local & remote log check

Supports DNS proxy and Dynamic DNS (DDNS)

Supports timing operations

Supports LED status indication

VRRP (hardware resiliency)

IPFix/Netflow Features (Traffic Monitor & Export) (Available with RMSC)

SMS Send/Receive

Configuration vis SMS kommands with status replies

Traffic filtering (Domain, IP and Mac Address)

Supports NAT/Routed traffic flow

Tacacs+ compatible

DHCP Relay (With Backup Server)

DHCP Relay option 43/60 support for wireless management
---





TECHNICAL SPECIFICATIONS




Ethernet Standard


IEEE 802.3

IEEE 802.3u

Status Indications


SIG Indicator

4G/5G Indicator

WiFi Indicator

SYS Indicator




Cellular Specifications


5G NR:n1/n2/n3/n5/n7/n8/n20/n28/n41/n66/n71/n77/n78/n79


LTE 800/900/1800/2100/2600 MHz

UMTS/HSPA+900/2100 MHz

GSM/GPRS 900/1800/1900 MHz

HSPA+/HSUPA/HSDPA/WCDMA/UMTS 2100/1900/900/850/800 MHz

EDGE/GPRS/GSM 1900/1800/900/850 MHz

HSUPA/HSDPA/UMTS 2100/1900/900/850 MHz

EDGE/GPRS/GSM 1900/1800/900/850 MHz

CDMA 2000/EVDO Rev.A 800 MHz

SINGLE SIM/SINGLE GSM MODULE (1x IMEI)

Interfaces


1 x 10/100/1000BaseT WAN/LAN Combo Interface

4 x 4G/5G antenna interface

4 x WiFi antenna interface

1 x GPS antenna interface

2 x Standard SIM/R-UIM Interface

1 x Reset Switch

1 x TF Slot

1 x USB2.0

1 x DC Power socket

1 x Terminal Row

Others


Dimensions : 213mm x 213mm x 51.5mm (except antenna)

Weight : 464 gr.

Working Environment Temperature : -30ºC∼+70ºC

Storage Temperature : -40ºC∼+85ºC

Humidity Ratio: <95%




FUNCTIONAL SPECIFICATIONS




Firewall & Filtering


IP package

NAT

DMZ

VPN


IPSec

PPTP/L2TP client

GRE/IPIP

Routing


Static Route

RIPv2/OSPF dynamic route

VRRP (hardware backup)

Power Supply


5∼36VDC


Management


Web Browser ( local/remote) (IE v8 or above)
CLI/Telnet
RMSC Ricon Management System Controller
SSH


Wi-Fi


Standard: IEE 802.11 b/g/n

WEP, WPA and WPA2 encryption

WPS key

AP, client, station, bridge mode

Power Consumption


Idle: 800mA@+12VDC

Dual GSM Module: 320mA@+12VDC



DEVICE FEATURES




Multiple Working Modes


LED monitor

Internal storage

Support WEB, CLI, SSH, multiple parameter management

Data trigger online/offline

LCP/ICMP/flow/heartbeat check, ensure network usability

Easy Maintenance Operation


Support local /remote firmware and patch upgrade

Support parameter backup and import, Support encryption

Support CFE firmware upgrade (Never about crash when doing upgrade )

Support Console port maintenance

Support smart switch when using multiple server

Local/Remote log for easy debugn

RMSC Ricon Management System Controller


Excellent monitor feature

Data flow detail

Instant statistics data

Adjustable SLA Levels

SLA based live alarm control

Bulk remote configuration

Remote configuration with timer

Remote terminal management maintenance

Checking the status of the Internet at any time

Display of GIS device location

Remote debugging

Flow static and analysis

Automatic installation
---