S9922MC-LTE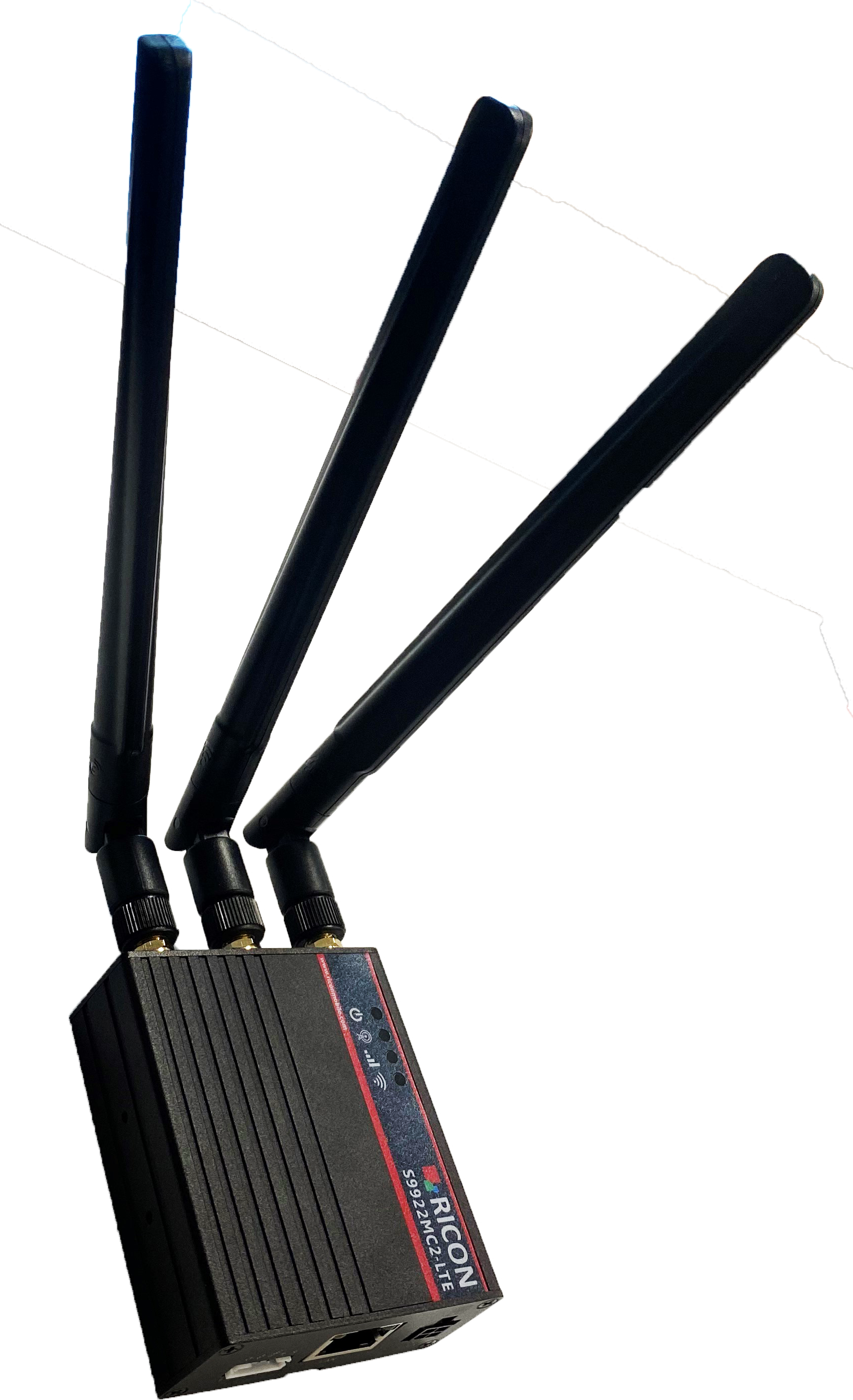 ---
RICON S9922MC-LTE Router, by Ricon Industrial grade quality, designed and manufactured
in accordance with 3G/LTE cellular network technology. With the embedded cellular module, It is widely used in many cases such as ATM connection, remote office security connection, data collection etc.
Ricon S9922MC router provides maximum service to customers while Zero touch-SMS installation minimizes the need for field service with easy and automatic product installation service. S9922MC Router, Single Module Single SIM hardware type. The best throughput value of the S9922MC Router is 200 Mbps. The unique feature of the S9922MC Router is that it is online and redundant over the network between WAN, WLAN, 3G / LTE network. This feature allows the S9922MC to provide maximum network availability and reduce the likelihood of network failure to
prevent losses due to network failures.
---
LTE / 3.5G support, 2.5G / 3G compatibility
1 x 10/100TBase Ethernet LAN Interface
1 x RS232 / RS485 Interface
1 x SIM Slots
Single GSM Module
VLAN Support (LINK TAG/UNTAG)
LTE+/LTE/DC-HSPA/HSDPA+/HSDPA/WCDMA/2G
WEB User Interface UI/CLI/SNMP/Telnet/SSH
Ricon Management System Controller (RMSC), SNMP
Component-level Industrial Design
2x2 LTE MIMO SMA Antenna
1 x 802.11b/g/n Wi-Fi Antenna
802.11b/g/n Wi-Fi
MODBUS-TCP Protocol Support
---




TECHNICAL SPECIFICATIONS

Ethernet Standard






Standard: IEEE 802.11b/g/n

AP, Client, Station, Bridge Mode Support

WEP, WPA and WPA2 encryption w/AES-TKIP

IEEE 802.11ac Optional 5Ghz Wi-Fi support

SSID Isolation Support

Channel manuplation support

20Mhz/40Mhz beamer support




Status Indications






LTE : RF Indicator

POWER : Power Status

WLAN : Wireless LAN Connection

WAN : Wide Area Network Cable Connection Status

LAN : Local Area Cable Connection Status




Cellular Specifications






EDGE/GPRS

Ethernet Standard

FDD-LTE/TDD-LTE

WCDMA/UMTS/HSPA/HSPA+/CDMA2000 EVDO/CDMA 1x

IEEE 802.3

IEEE 802.3U




Interfaces





LAN : 1 x 10/100BaseT(MDI-X)

RS232 / RS485 : 1 x 6 Pin Terminal Socket

SMA-K (LTE MIMO) : 2 x LTE/3G/2G

SIM / R-UIM : 1 x USIM Slot

Reset Switch : 1

DC Power socket : 1 x 3 Pin Terminal Socket

Others





Operation Temp. :-40 °C ~ +75 °C

Shelf Temp : -45 °C ~ +85 °C

Dimensions : 75mm x 60mm x 28mm

Weight : 190 gr.




FUNCTIONAL SPECIFICATIONS

Firewall & Filtering





IP Paket/Domain/MAC Filtresi

NAT

DMZ

VPN Pass Through

Stateful Firewall

VPN



IPSec

PPTP/L2TP istemcisi

GRE/EoGRE

OpenVPN, DMVPN

Routing



Static Route

RIPv2/OSPF/BGP

VRRP

Power Supply




5 - 35VDC



Management





Local or remote web browser

CLI/Telnet command

RMSC Ricon Management System Controller

SSH config (optional)

Standard: IEEE 802.11b/g/n(ac optional)

AP, Client, station, bridge mode support

WEP, WPA and WPA2 encryption

Wi-Fi

Standard: IEEE 802.11b/g/n

AP, Client, Station, Bridge Mode Support

WEP, WPA and WPA2 encryption w/AES-TKIP

IEEE 802.11ac Optional 5Ghz Wi-Fi support

SSID Isolation Support

Channel manipulation support

20Mhz/40Mhz beamer support

Power Consumption



On Idle : 80mA + 12VDC

Single Module Power Consumption : <5W



DEVICE FEATURES




Multiple Working Modes





Wifi Access Point for SME and End User

Industrial type CAT4 / CAT6 (Optional) GSM module

Using a wireless router with 3G / 4.5G mobile network

ModBus TCP Protocol support with RS232 / RS485 interface

Backup between 4.5G Mobile network and Wireless WAN

Remote management with SNMP or Ricon Management

Platform and setup

Easy Maintenance Operation





Local or remote web browser

CLI/Telnet command

RMSC Ricon Management System Controller

SSH config (optional)

Standard: IEEE 802.11b/g/n(ac optional)

AP, Client, station, bridge mode support

WEP, WPA and WPA2 encryption

Network Connection Features

4G (TD-LTE / FDD LTE), DS-HSPA +, HSPA +, HSPA, WCDMA,

EVDO, TD-SCDM, CDMA1x, EDGE / GPRS

EWAN, WLAN, SIM1

WLAN AP/station/repeater, 802.11n(802.11ac optional),at most

300Mbps

1 LAN port

WAN support ADSL(PPPoE), static IP,DHCP client

VPDN, APN

802.11b / g / n Wi-Fi

Supports DNS proxy and Dynamic DNS (DDNS)

EMC4 Industrial Design

Alumin

um alloy outer housing, IP54 protection

System security isolation, Particularly suitable for the

application of industrial control field

Wide working power(DC 5-35V)

Antenna lightning protection

SIM/UIM port: 15KV ESD protection

Power port: reverse-voltage and overvoltage protection

Ethernet port: 1.5KV magnetic isolation protection



---