S9960ME-8GE/LTE SFP Switch/ Router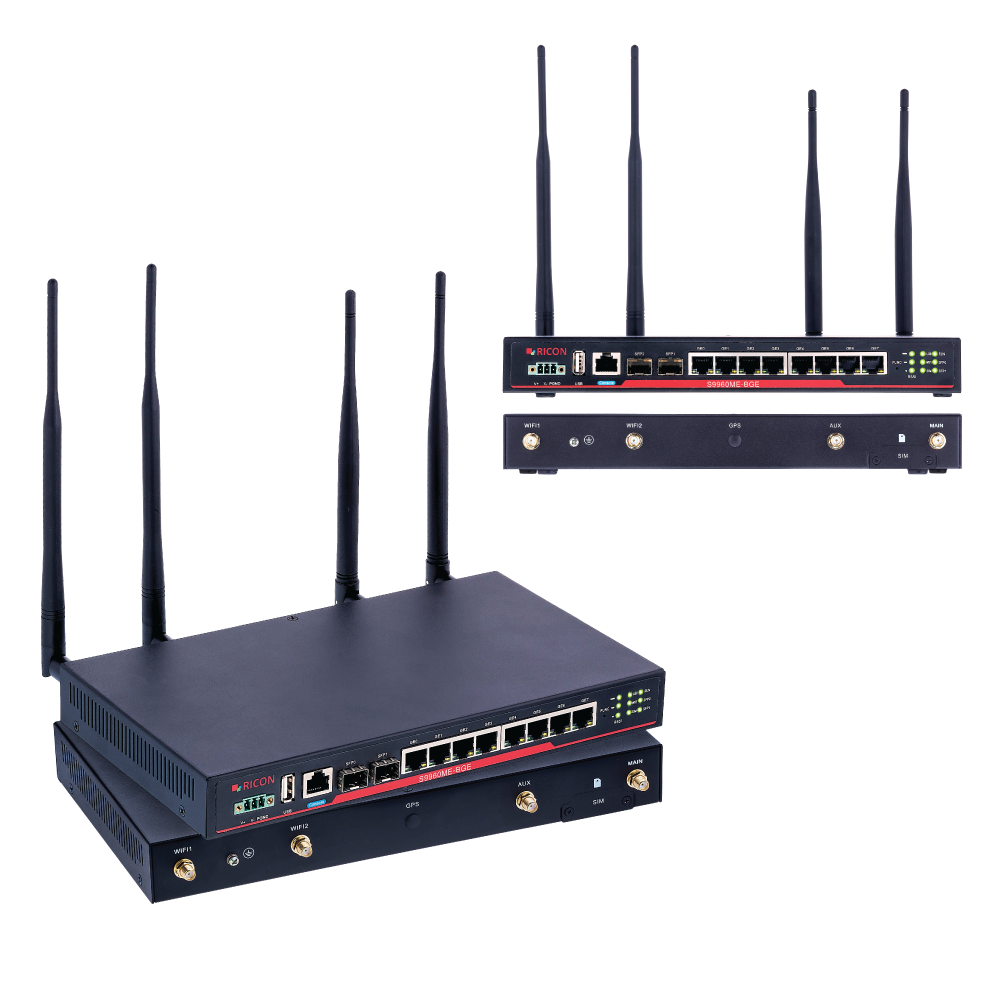 ---
RICON S9960ME-8GE/LTE SFP SWITCH/ROUTER is a mobile network router designed based on Fiber, WiFi and VPN technologies. It is equipped with a powerful 64-bit processor and an operating system specially developed by Ricon. It can easily connect any network device connected via interface connections such as Ethernet and WiFi to the Internet or a central local network with a simple configuration.
S9960ME-8GE/LTE SFP SWITCH/ROUTER; It is a fiber optic terminator switch that provides distribution of fiber lines to companies or end users with ethernet to users. Thus, it can easily connect to the internet without the need for any other complementary product and ensures the successful transfer of data.
---
8 LAN/WAN (Gigabit)
1 Console Port
Single GSM Module
1 SIM
2 SFP/WAN (Gigabit)
1 USB 2.0
Gigabit Longrange
WEB User Interface, CLI, SNMP, Telnet, SSH
Ricon Management System Controller (RMSC)
2x2 LTE MIMO SMA Antenna
1 802.11b/g/n Antenna, 1 802.11ac Antenna
Industrial design at component level
IP64 metal case for protection against external factors
---





TECHNICAL SPECIFICATIONS




Ethernet Standard


IEEE 802.3,

IEEE 802.3u,

IEEE 802.11b/g/n/ac

AP, Client, Bridge Mode Support

WEP, WPA and WPA2 encryption with AES-TKIP

IEEE 802.11ac Optional 5GHz Wi-Fi support

SSID Insulation Support

Channel management support

20MHz/40MHz/80MHz Beamer support

Status Indications


SFP: Status Indicator

NET: Connection Setup

WLAN: Wireless LAN Connection

WAN: Wide Area Network Cable Connection Status

LAN: Local Area Cable Connection Status (Lan1 ~ Lan4)

POWER: Power Status

VPN: Connection Status Indicator

WPS: Clear Wifi Connectivity Indicator

VoIP: IP phone connection indicator

Interfaces


8 10/100/1000 Mb LAN Port

1 10/100/1000 Mb WAN Port

2 10 / 100/1000 Mb SFP Port

1 Standard DC Power Input Port

1 USB Input Port

Others


Operating Temperature: 0

ºC

-40

ºC

Dimension: 240mm x 150mm x 35mm

Weight: 392gr.




FUNCTIONAL SPECIFICATIONS




Firewall & Filtering


IP packet/Domain/MAC Filter

NAT

DMZ

Protocol Type Check

Port Control

VLAN Tagging

VPN


IPsec

PPTP server

L2TP server

Routing


Static Routing, Regulatory Routing, Port Routing

RIPv2/OSPF Dynamic Routing

Power Supply


9∼24VDC


Management


Web Browser (local/remote) (IE v8 or above)
CLI/Telnet
M2M Management
SSH


Data Features

QoS: Speed limitation, packet prioritization

IPv4/IPv6, TCP/IP, UDP, RTP, SNTP, NAT, DNS, DDNS

Address management: Static, DHCP Server, IP/MAC connector,

DHCP switching

Power Consumption


Idle: 12V/1A

Single Module Power Consumption:<5W



DEVICE FEATURES




Multiple Working Modes


Led monitor

WEB, CLI, SSH, multi-parameter management support

Data trigger online/offline

LCP/ICMP/flow/availability signal control, network availability

Easy Maintenance Operation


Local/remote firmware and patch upgrade support

Parameter backup and retrieval support, encryption support

CFE firmware update support

Smart switch support when using multiple servers

Local/remote system logging for easy debugging

Full Network Mode

WAN, WLAN

WLAN AP/Station/Repeater, 802.11n 2.4GHz up to 400 Mbps 8 LAN ports,

Support Fiber SFP

WAN support ADSL (PPPoE), static IP, DHCP client

802.11b/g/n optional Wi-Fi, WPS switch

DNS proxy and Dynamic DNS (DDNS) support
---
S9960ME-8GE/LTE SFP Switch/Router widely used in Telecom, finance, advertisement, traffic,

environment protection

areas.
---